September 13-17, 2023
Giant Center, Hershey, PA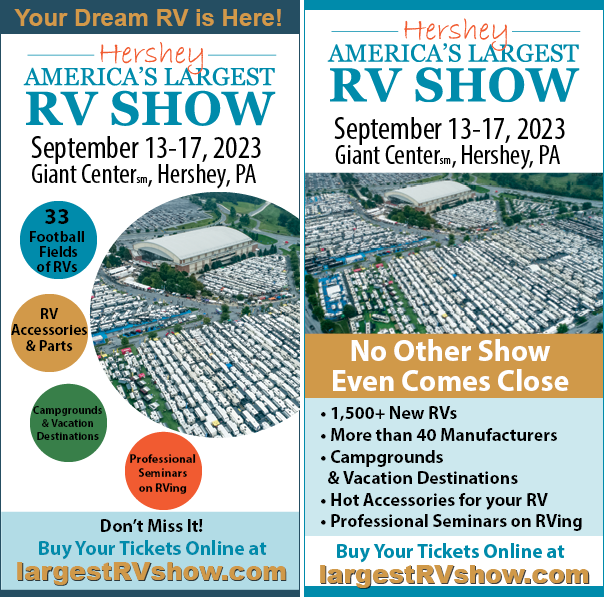 RECREATION VEHICLES (RVS) FIRST GAINED POPULARITY IN 1910 AS PEOPLE WANTED TO TAKE THE MINIMAL COMFORTS OF HOME ON THE ROAD. BY THE 1950S AND 60S, RVS STARTED TO COME INTO THEIR OWN AS SMALL DO-IT-YOURSELF KITS, TOWABLE TRAVEL TRAILERS AND UP TO 30-FOOT RVS BECAME POPULAR.
More than 50 years ago, the first Pennsylvania consumer show featured some RVs. The Pennsylvania Recreation Vehicle and Camping Association (PRVCA) joined the Pennsylvania Manufactured Housing Association to display recreation vehicles at the Pennsylvania Farm Show building in Harrisburg. In 1970, PRVCA hosted the first show exclusively featuring RVs.
In 2005, PRVCA moved the show to The Giant Center in Hershey, Pennsylvania. In its first year there, the show encompassed 943,000 square feet and hosted more than 28,000 attendees. It has grown tremendously through the years, even weathering a hurricane and a Recession.
In 2008, PRVCA rebranded the show as "America's Largest RV Show®." Since then, thousands of people have attended the show to find out more about the RV lifestyle, talk to knowledgeable sales staff and buy their dream RV. In 2017, America's Largest RV Show® welcomed a record 64,000 + attendees.
You have to attend the show to appreciate the enormous size. At nearly a million square feet, it would cover 33 football fields.
AMERICA'S LARGEST RV SHOW®
Proceeds from America's Largest RV Show® go back to the industry to fund education and training programs. The Pennsylvania Recreation Vehicle and Camping Association works to educate RV technicians and other staff at the dealerships, so they can provide the highest level of service to their customers.
Venue: Giant Center
A 10,500-seat multi-purpose arena in Hershey, Pennsylvania, a census-designated place in the Harrisburg metropolitan .area.
550 Hersheypark Dr
Hershey, PA 17033
Phone: (717) 534-3911