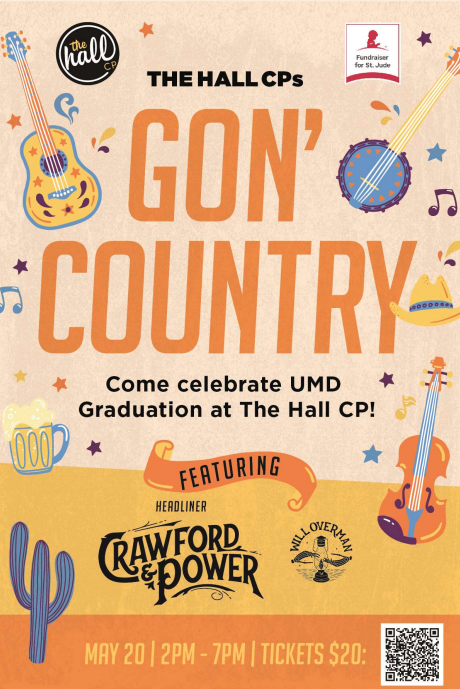 Please join us at ALSAC/St. Jude and two fantastic bands at The Hall CP on Saturday, May 20, for GON' COUNTRY, a country music festival benefitting St. Jude Children's Hospital. Will Overman and Crawford & Power will put on a great show to kick-off UMD's graduation weekend and it will be a wonderful way to spend a sunny Saturday.
Singer/songwriter Will Overman is a St. Jude asset and ambassador currently on tour promoting the hospital's efforts and spreading awareness across the country; Crawford & Power are an up-and-coming band gaining a lot of traction on the scene and are excited to support and potentially get more involved with St. Jude. The venue features expansive outdoor space, multiple bars, delicious food, and brand-new pickle ball courts. This is a family-centric event and kids of all ages are welcome!
Ticket sales for the event are directly benefiting St. Jude Children's Hospital, so please purchase your ticket soon, join us for a great show, and help us put an end to childhood cancer.
The Hall CP: 4656 Hotel Drive, College Park, MD 20742