The "Black Frederick Festival" is a FREE festival taking place on August 26th, 2023, from 11AM to 5PM at Carroll Creek Park (Carroll Creek Park, 50 Carroll Creek Way Frederick, MD 21701).
This event is held by 'Nigerians in Frederick (NIF)' and 'BlackFrederick.Com'- over their desire to represent African and African American culture in the Maryland area. The goal of this event is to attract people within Frederick to showcase unique cultures, enduring bonds and shared history as part of African heritage within the black community. This event is the first of its kind, for all ages and demographics to "share, celebrate, and educate the Frederick community about the richness of Black culture".
There are opportunities for volunteers, vendors and sponsors. 
For more details see Facebook page
Nigerians in Frederick: website | facebook
      Coordinator: Yewande Oladeinde, Ph.D.
      Email: [email protected]
      Phone: 888-675-0202
Association Email: [email protected]
BlackFrederick.Com: website | facebook
Event Website: https://blackfrederickfestival.com/
Association Email: [email protected]
Other Links: Downtown Frederick event link | Visit Frederick event link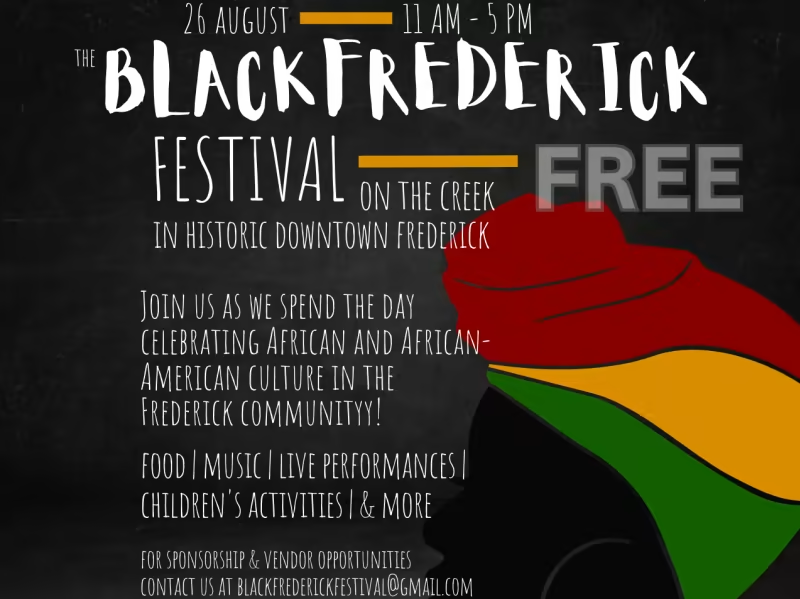 Venue: Carroll Creek Park
Public Park
50 Carroll Creek
Frederick, MD 21701
Phone: (301) 600-1380