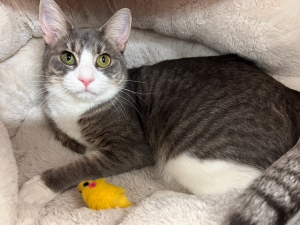 This is Weedle, our Jay Day and the Day Home Team PET OF THE WEEK.
Weedle is a one year old domestic short hair cat that was found in Woodsboro.
This sweet girl has been at the shelter for over 200-days.  To meet her contact Frederick County Animal Control at 301-600-1546.
A special thanks to our other sponsors, Frey Agricultural Products and Johnson and Johnson Heating and Air Conditioning.