She begins her term on July 1st.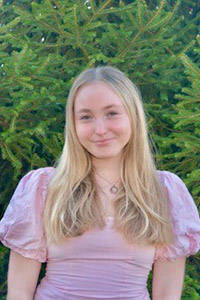 Brooke Lieberman (Photo from Frederick County School System)
Frederick, Md (KM) There will be a new student member of the Frederick County Board of Education next school year. . Brooke Lieberman was elected to the post.
The Urbana High sophomore will start her term on July 1st, 2023, , but will shadow current Student School Board member Lucas Tessarollo.
Lieberman was elected by high school and middle school students through an on line voting process.
At Urbana High, Lieberman has served as President of the Buddies for Life Club, Historian of the National Honor Society for Dance Arts, Captain of the winter cheer team, and has participated in the Student Government Association and the Red Cross Club.
In her candidate speech, Lieberman said she will work on issues concerning mental health awareness, and equitable opportunities for students.
As the student member of the Board of Education, Lieberman will bring the student's viewpoint to School Board meetings. She also must respect the diversity of students' viewpoints,  and improve communications  between the students, staff, and Board members. In addition,  she must inform students about board policies and decisions.
By Kevin McManus