The driver was killed.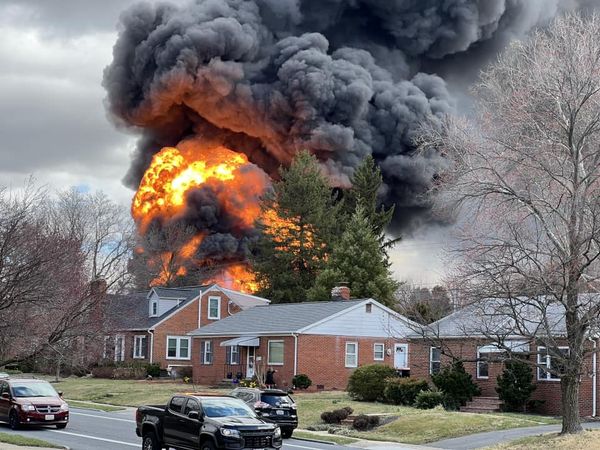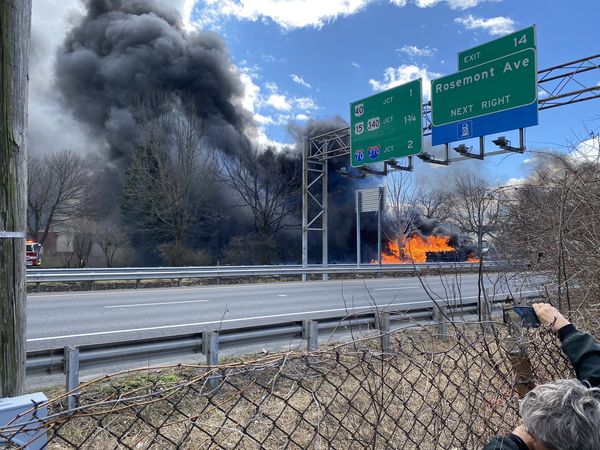 (Photos from Frederick County Division of Fire & Rescue Services)
Frederick, Md (KM) A tanker truck caught fire and crashed Saturday afternoon along Route 15 in Frederick, killing the driver.
During a news conference Saturday, County Fire and Rescue Services Chief Tom Coe told reporters that Emergency Communications dispatchers received a call at around 12:00 noon for a house fire in the 500 block of Schley Avenue. He says after that emergency calls came in for a vehicle explosion and fire along Route 15 between Schley Avenue and Rosemont Avenue.
"Frederick County Division of Fire and Rescue Services units arrived on the scene within minutes to confirm one tanker truck hauling flammable liquid completely engulfed in flames with extension to three homes and three automobiles in the 500 block of Apple Avenue," he said.
In a news release, the Maryland State Police say the tanker truck hit a tree and caught fire.
This incident also led to a brush fire along Route 15. A second alarm was sounded to bring additional personnel and apparatus to the scene. Chief Coe says all of the fires were brought under control within 40 minutes.
"We can confirm that the tanker driver did die as a result of the incident," says Coe. "One house located on Apple Avenue suffered extensive damage which displaced the occupants of the home. Two other residents received minor damage from the fire. There are no reported injuries to the occupants of the home, or any fire and rescue personnel."
Bradd Hammond, who lives very close to Route 15 where the explosion and fire took place, spoke with WFMD News. "I was in the middle of the house working on some projects, heard the explosion. It rocked the house. I thought a tracker trailer hit my house, actually," he said.
Hammond also said the tanker truck was 40 feet away from his home and was engulfed in flames with "huge, huge black smoke everywhere." He described the truck as "toast."
Another eyewitness who spoke with WFMD News was Carol Kisman who lives two houses down from the explosion. "I saw the explosion. I was driving back from Germantown and just called my husband and started screaming 'get out of the house; get out of the house. Get the kids,'" she said. "And when I got to my house, the police were already there. They wouldn't let me to get my dogs. I said 'I have to get my dogs.' So I went inside, got my dogs, and drove away," she said.
She described the flames from the tanker truck fire as 'all the way up to the sky."
It's unknown yet what type of chemical the truck was carrying, but Coe told reporters there was no danger from those flammable materials. "The Frederick City Department of Public Works are on the scene and have confirmed that hazardous materials involved in the incident are contained, and they were contained prior to reaching Carroll Creek," he said. "Also glad to share that the foam  used in the fire fighting efforts were environmentally friendly and did not include any PFAS material."
Frederick Mayor Michael O'Connor also told reporters that there is no danger to the city's drinking water supplies. "We have a number of drinking water sources, and those are all safe and well protected. And so there is virtually zero opportunity for an incident like this occurring where it is to have an impact on the city's drinking water," he said.
The Mayor said the city does not receive its drinking water  from Carroll Creek.
The Maryland State Police are investigating the crash.
By Kevin McManus