Frederick County Public Schools says weapons are not permitted  on school property.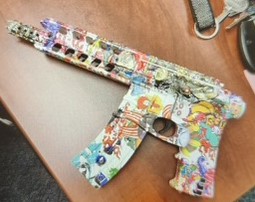 Orbeez water gun  (Photo from Frederick County Sheriff's Office)
Frederick, Md (KM) A Frederick County Public School student is expected to face to disciplinary action. . The Sheriff's Office says the youth brought an Orbeez water gun to school on Monday. . Deputies worked with School System staff and quickly recovered the device. All students and staff were not in any danger.
Authorities say they got word the student had the water gun while on a school bus, and it was taken from the child after getting off the bus and in the school building. The Sheriff's Office did not identify the school, but said it was an elementary school.
No charges will be filed against the youth.
The School System says weapons of any kind are not permitted on school property, and that includes buses. Students will face disciplinary action if they bring a gun, knife or other weapons on to school property.
By Kevin McManus