One involves contaminated sites.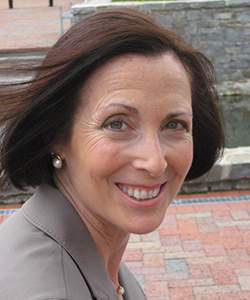 State Senator-elect Karen Lewis Young (D) (Photo from Maryland General Assembly)
Frederick, Md (KM) Frederick County State Senator-elect Karen Lewis Young (D) says she's introducing eight to ten bills during the 2023 Maryland General Assembly Session which gets underway on January 11th. The measures would take a look into long wait times at hospital emergency rooms in Maryland, mandate treatment for person with severe mental illnesses  and support victims of sexual assault.
Lewis Young says one piece  of legislation she sponsoring  is unique to Frederick County. It would require anyone considering the purchase of property for a home near contaminated sites, or superfund sites, to  be given full disclosure on the past uses of the property. "It came from a local group of environmental advocates who were very concerned that people who were purchasing properties near our  superfund site  were not getting adequate notification of that," she said.
There are plans to construct 122 new houses and 180 condominiums on a 23-acre site between Shookstown Road and the southwest fence line of Area B at Fort Detrick. Area B was once used by the US Army to dispose of biological wastes which has contaminated groundwater in that area.
Lewis Young says the property where the development is planned is not owned by Fort Detrick. "Fort Detrick owns property near it. It's land that's being privately developed. But there's a concern that prospective homebuyers aren't getting adequate disclosure,": she said.
A number of other issues are expected  to come before legislature this year, according to Lewis Young. "Implementing the Blueprint for Maryland's Future; college affordability, school staffing shortages, affordable childcare, adequate transportation," she says.
During this session, Lewis Young will move from the House of Delegates where she, has served for eight years to the State Senate. She says she doesn't have an office, a telephone number of e-mail address set up, but has already received her committee assignment. "It is a new committee. I call it E-3. because it will focus  predominantly on education, environment and energy," she says.
Democrat Wes Moore will be taking over as Governor, succeeding Republican Larry Hogan who is term limited. Brooke Lierman will become Maryland's new Comptroller, and Anthony Brown will be sworn in as the State's Attorney General. "I personally am very excited because I know many of them," says Lewis Young "I worked closely with Brooke Lierman on a number of initiatives. And I know Anthony Brown fairly well. And I'm also encouraged by our new Governor."
Lewis Young says Wes Moore called less than 24-hours after she won election as State Senator to congratulate her. "He spoke with me for a half hour on the most important issues," she says. "And I just feel for me this is the  most accessing conversation I've had with a governor, governor-elect in this case, for the past eight years."
Moore will take the oath of office as Governor on January 18th.
By Kevin McManus