Legislation to that effect was sponsored by Frederick County Delegate April Miller.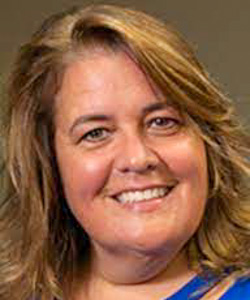 Delegate April Miller (Photo from Md. General Assembly)
Annapolis, Md (KM) Legislation to expand the state's open meeting law to cover citizen committees and task forces formed by local boards of education in Maryland won't go forward this year. That's according to Frederick County Delegate April Miller who is sponsoring the bill. "It did not make it out of the House. It has not made to the other side. As I didn't have a cross file on it, so that means it pretty much won't go anywhere after the next couple of days," she says.
Miller introduced the legislation after the Frederick County Board of Education set up a citizens committee to review 35 books that a group of citizens say  are inappropriate, and should be removed from public school library shelves. The committee decided to meet behind closed doors with no members  of the public present.
"I do plan on introducing it next year,": Miller  says. "I think that a lot of my colleagues know where I'm coming from as far as the transparency, and how I feel about parent rights."
Miller, who is a former member of the Frederick County Board of Education, says it's important for citizens to watch these meetings either in person,  or live-streamed over the internet.
But she  says another one of her bills which covers  rear passengers on motorcycles has a good chance of passing the legislature. "The rear passenger should at least be able to reach those rear foot pegs," she says. Right  now Miller says Maryland has no law covering motorcycle passengers.
She also pointed out that she is not a motorcyclist. "But it was very important to some families here. So I brought that bill forward for them, and hopefully it goes though the Senate side all right, and we get a bill passed about that," says Miller.
This bill covering motorcycle rear  passengers has passed the House of Delegates, and is scheduled for a hearing before the Senate Judicial Proceedings Committee for Wednesday, March 29th at 1:00 PM.
By Kevin McManus