There will be more opportunities for residents to travel to and from Frederick city.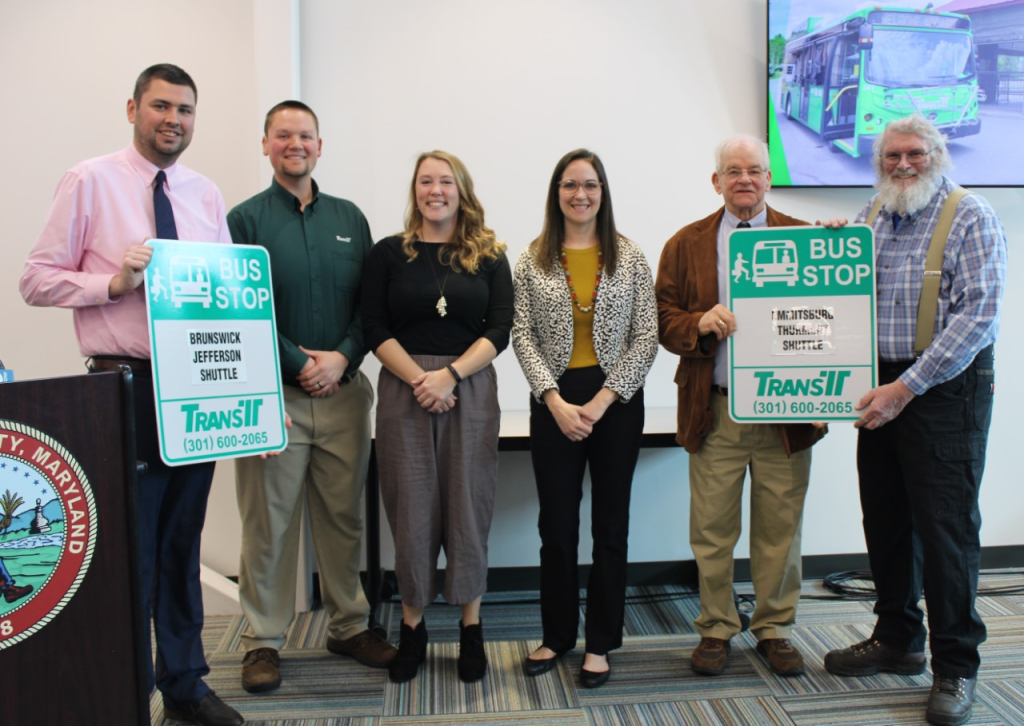 (Photo from Frederick County Government)
Frederick, Md (KM) There will be more transportation options for Frederick County residents. During a news conference on Tuesday, County Executive Jessica Fitzwater announced that a Pilot Services Expansion will begin on April 1st.  . "The Brunswick-Jefferson riders will now benefit from a first trip that starts in Frederick rather than just in Brunswick," she said. "Brunswick-Jefferson riders will now have two round trips between Frederick and Brunswick every Saturday."
Mayor Nathan Brown from Brunswick, who was on hand for the announcement, said this will mean a lot for  residents in that area. "Not everyone's lives fits in Monday through Friday, nine to five. So creating opportunities on Saturdays , creating opportunities for medical appointments and people to get out to social activities–shopping–and just create new job opportunities for people," he said.
The buses rides will be provided by TransIT Services of Frederick County.
County Executive Fitzwater said there will also be opportunities residents in the Thurmont and Emmitsburg areas to take more trips into Frederick during the week. "Emmitsburg and Thurmont riders also asked for a late morning trip that provides access to medical appointments,  especially along Thomas Johnson Drive, and we're adding that late morning trip on Tuesdays and Thursdays for that shuttle," says Fitzwater.
Mayor John Kinnaird of Thurmont was also there to express his gratitude. "We have a lot of seniors in Thurmont. They're very active, and more of them will be more active now with  the ability to make more bus rides into Frederick and other areas, especially up to Emmitsburg. We have a lot of residents who travel to Emmitsburg for doctors' visits and shopping," he said.
There will also be two round trips between Frederick, Emmitsburg and Thurmont every Saturday which are designed to support Mount Saint Mary's students and community members throughout  the county. "This has been a work in progress to get more accessibility for our elderly and our students," says Emmitsburg Mayor Don Briggs, who was on hand for the announcement. "We have an expanding diversity of international students at the campus up there and they need to figure out how to get around the area, and this really helps."
County Executive Fitzwater says the county reached out to these communities to learn about their transportation needs. "We heard that access to medical appointments, social events and shopping at different times and in different ways were really things that were needed by our community, "she said.
This pilot service expansion is being paid for through a federal grant secured by TransIT's staff.
By Kevin McManus