FHH says there have been days when the hospital was 100% full.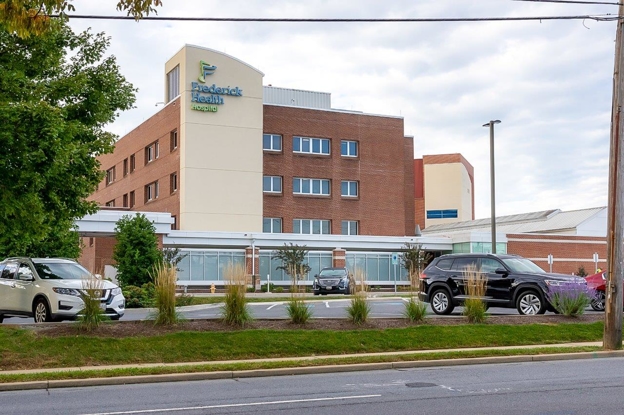 Frederick Health Hospital  (Photo from Frederick Health Hospital)
Frederick, Md (KM) It's been a busy time at Frederick Health Hospital as more patients are coming in with respiratory illnesses. "We have been running roughly 20 patients a day with COVID-19," says Cheryl Cioffi, Senior Vice President and Chief Operating Officer for FHH. "That may not have been what brought them into the hospital. But it's certainly is something that they have as a co-morbid condition while they're hear for possibly other reasons."
She says the hospital has seen a number of  influenza cases, but RSV has tapered off.
Many hospitals around the state of Maryland and the country have admitted  large numbers of patients with respiratory illnesses, sometimes filling up hospitals to capacity. Cioffi says that's something Frederick Health Hospital has also been dealing with. "We have certainly have days where we are 100-percent full and certainly over the prior weeks it's been much more frequent than it was in the fall, and certainly since the summer months.
But Cioffi says Frederick health Hospital prepares for instances like this, especially the increasing number of patients with respiratory illnesses during the colder months. . "The one thing that's really compounded our efforts this year is the national shortage of health care workers, particularly  nursing shortage. That  certainly plays a factor in our operations and our ability to be prepared."
She says Frederick Health Hospital has about 190 openings for nurses.
But despite these difficulties, Cioffi gives credit to FHH's doctors, nurses and other personnel. "When you couple a workforce shortage with a heightened. surge of patients, it certainly takes a lot of coordination and effort across our organization every day, "she says. "We respond to this increased volumes by working with our physicians, our nurses, our managers and all of our team members to try to move the patients through the hospital as efficiently and safely as possible."
For those patients whose injuries or illnesses are not critical, Cioffi recommends they visit their primary care physician or a walk-in clinic.
By Kevin McManus