It was a dairy farm, but now the owners  grow grains.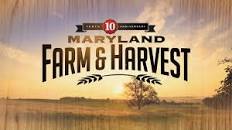 Owings, Mills, Md (KM) The television program "Maryland Farm and Harvest" is spotlighting a Frederick County Farm. Series Producer Bob Ferrier says his crew paid a visit to   Burrier's Linganore Farm in Union Bridge. He says the farm was depicted during the first season of "Maryland Farm and Harvest." "I realize that they had shot at Burriers in season one. And I thought what a great way to tie in season one as part of the tenth anniversary celebration of the series is to revisit some of these farms," he said.
Ferrier says Burrier's  Linganore Farm was a dairy operation, but the owners, Dave and Belinda Burrier, ended that in 2000. They now grow corn, hay, soybeans and wheat. "They are staunch environmentalists,": Ferrier says. "So they thought it's not cost effective for them to revamp their entire waste system. So they decided to stop being a dairy farm, and move all in with commodities and grains."
LInganroe Creek runs through their property.
Ferrier points out that the program will air on Maryland Public Television on Tuesday, February 14th at 7:00 PM. That's Valentine's Day, which is the theme for the program. "And make it about a love of farming and a love of family. So with those two things, the Burriers fit the bill," says Ferrier.
The program will also feature the Willow Oaks Flower and Herb Farm in Anne Arundel County, and, as part of the local buy, the Bramble Bakery in Baltimore City and Baltimore County.
By Kevin McManus