But MTA says some challenges lie ahead.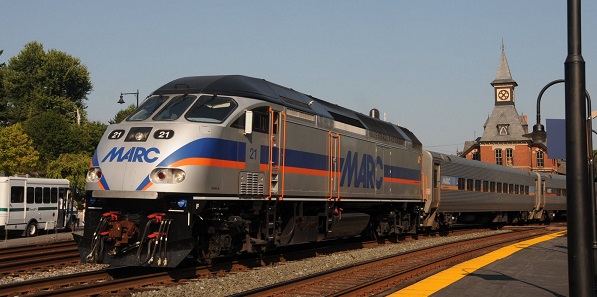 MARC Train traveling by the Point of Rocks Station  (Photo from Shutterstock)
Baltimore, Md (KM) The Maryland Transit Administration is continuing to look at expanding the MARC Brunswick Line. Deputy Administrator Kate Sylvester say MTA has developed a study on the proposed expansion of the rail serve into Washington County and beyond. "Three options which serve Hagerstown using existing or historic railway alignments; and then one option to serve Hancock and Cumberland, extending service from Martinsburg," she says.
The Brunswick MARC Line begins in Martinsburg, WV, with stops in Harpers Ferry, WV, and Brunswick and Point of Rocks, Md. before heading to Montgomery County and to Union Station in Washington DC. There's also a spur which runs to two stations in Frederick which are on East Street and  in the parking lot behind the Target store off of Route 355.
Sylvester says it may be a while before any trains start carrying passenger to and from Hagerstown, Hancock and Cumberland to Brunswick and eventually, the Nation's Capital. "The first thing is just to understand what some of the feasibility challenges are, and also what the level of public interest is," she says. "And then based on that, we'll focus where it seems to be most promising, and determine if further study is warranted."
One of the challenges, Sylvester says, is the ownership and condition of the tracks. "All of these are existing railway alignments which means they may be existing freight service on them, or existing passenger service on them. In some cases, the rails haven't been used in active service in some cases many decades." she says.
The condition of the condition and ownership of the tracks, and the rights of way  are important considerations, she says.
MTA has a survey on its website asking citizens if they want to see the Brunswick MARC Line extended. Sylvester says response so far as been positive. "We have seen a lot of interest already. This is generating some conversation which is great. We love to see that," she says.
Anyone who wants to participate in the survey can go on line to mta.marhyland.gov/brunswickmarcstudy.
Sylvester says the proposals to expand the Brunswick MARC line don't just focus on western Maryland, but also an expansion of the service to Washington DC. "So we're looking at options for providing mid-day service; looking at potential weeknight or late night service or additional  peak hour service. So that's another component of the study we're looking for feedback on," says Sylvester.
MTA is holding a ZOOM public meeting on Wednesday evening beginning at 6:30.
By Kevin McManus