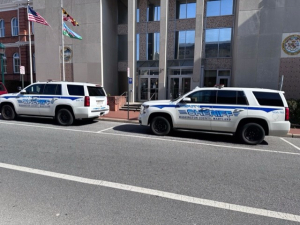 It happened in front of the Washington County Courthouse.
HAGERSTOWN, MD. (LG) A Hedgesville, West Virginia man was arrested on Wednesday, after the pick up truck he was driving struck a parked cruiser that belonged to a Washington County Sheriff's Deputy.
Sheriff Brian Albert said the crash happened about 10 a.m. in the front of the court house. "It pushed our vehicle into another vehicle that was parked in front of it. And then the same thing, that vehicle went into another vehicle, but they had minor damage. Our cruiser was a total loss," said Albert.
Christian Edward Cooker, 38, was driving while impaired. "It was a driver that was under the influence. He just kind of swerved into our vehicle right there and he just happened to hit the back of it first. You know he ran off the road from the travel portion of the lane into the parking area and struck our vehicle in the left rear corridor," continued Albert.
Cooker allegedly had close to 300 pills in his vehicle, which investigators said were controlled dangerous substances.
Cook is facing numerous offenses. He is charged with 2 felony counts of possession of a controlled dangerous substance, with intent to distribute. He is also charged with 2 misdemeanor counts of possession of a controlled dangerous substance. Traffic citations were issued for negligent driving, reckless driving, and driving while impaired.
By Loretta Gaines