The fire was contained to the attic.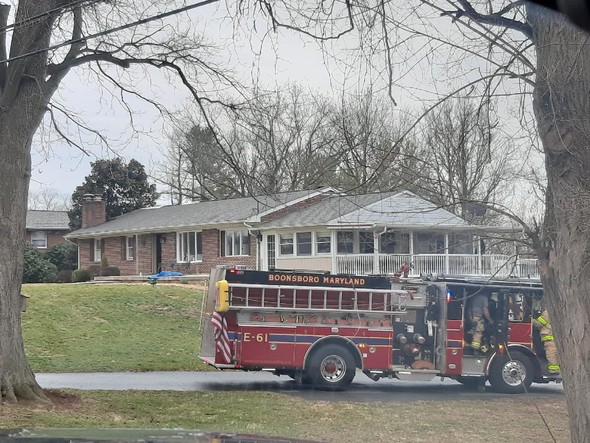 House at 8514 Old National Pike, Boonsboro, Md (Photo from Md. State Fire Marshal's Office)
Boonsboro, Md (KM) Fire damaged a home in Boonsboro Monday afternoon.
At around 12:35 PM, fire and rescue personnel were dispatched to 8514 National Pike for a fire in a single family rancher. 35 fire fighters spent 40-minutes bringing the flames under control There were no injuries.  .
The Maryland State Fire Marshal's Office says the fire originated in the attic, and was the result of an electrical failure in the wiring. Damage is estimated at $20,000 to the structure.
Authorities also say the home had smoke alarms, but they were not activated. They also say that's  because the fire was in the attic space, above the detectors. The occupant discovered the fire when the electric breakers kept kicking off,  and she smelled smoke. The Fire Marshal's Office says  smoke was coming from the eaves of the house. Damage was limited to the attic and some drywall.
The Red Cross assisted the occupants due to a lack of electricity.
By Kevin McManus