MDOT SHA says work is expected to begin within a few days.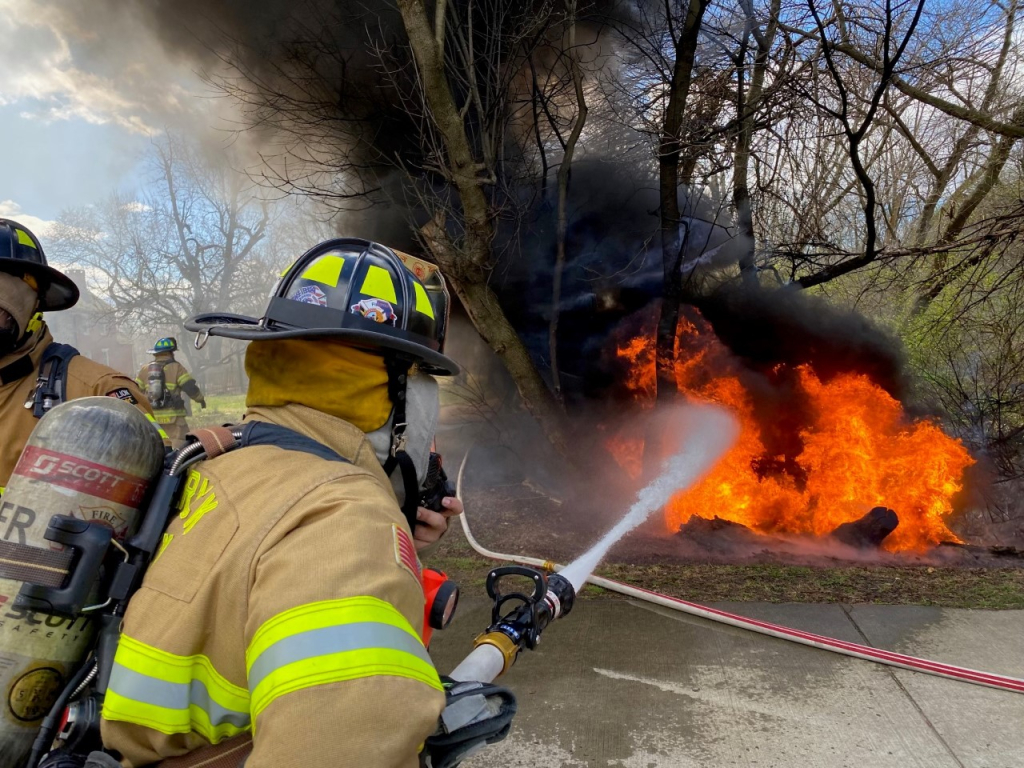 Tanker Truck Explosion & Fire (Photo from Frederick County Fire & Rescue)  
Frederick, Md (KM) Some safety work is expected to begin on Route 15 in Frederick over the next few days. During a community roundtable on Wednesday regarding the fatal tanker truck fire and explosion earlier this month. Maryland Department of  Transportation  State Highway Administration District 7 Engineer Andrew Radcliffe announced that guardrails will be installed along northbound Route 15 from prior to the West 7th Street bridge to the Rosemont Avenue exist.
"As a safety measure to help provide more buffer between 15 and Apple Avenue, especially given  that the tanker truck took down a very mature tree. It's pretty much open space through a portion of that now," he says.
Radcliffe said the guardrails will help keep most vehicles away from homes and other structures. "We have a lot of steel guardrail out on the roads now. It will be very similar to some of the new guardrail that was installed," he said. "Some of the older ones are a little shorter. But the new guardrail sits about between two-and-a-half to three-feet in height relative to the edge of the road. And it is designed to withstand a glancing blow from a standard vehicle traveling 60 miles an hour."
Radcliffe says the installation work could begin this coming Sunday or next week, depending upon the weather.
The community roundtable was held at the Frederick High School auditorium.
Some of the citizens who attended took issue with Frederick County Fire and Rescue Services. While giving praise to fire fighters for responding and quickly putting out the fires following the tanker truck accident, they said fire officials did not notify the public soon enough following the crash, and the spread of the flames to some houses on Apple Avenue and several brush fires. With a dangerous situation, these residents were wondering at the time if they should evacuate their home. Chief Tom Coe responded. "In this event, we did send a notification out to the public 42 minutes into the incident And we did that when we had credible, reliable information that we could share," he said.
Chief Coe also said fire and rescue will look at ways to improve its communications with the public. "We do take the comments that the public shared with us tonight to heart. And we'll absolutely go back and see how we can move our processes forward to speed up those notifications and to share information more effectively with the community we serve," he said.
But Coe says citizens who don't feel safe during emergencies can make the best decisions for them at that time, and fire service fully supports that; and that include evacuating their homes.
He also said residents can sign up for Alert Frederick County and receive text messages about emergencies such as the tanker truck explosion and fire, and weather-related incidents such as hurricanes and blizzards. . They need to go to the Frederick County Government website and look for Emergency Management.  
By Kevin McManus