He also calls for an end to child poverty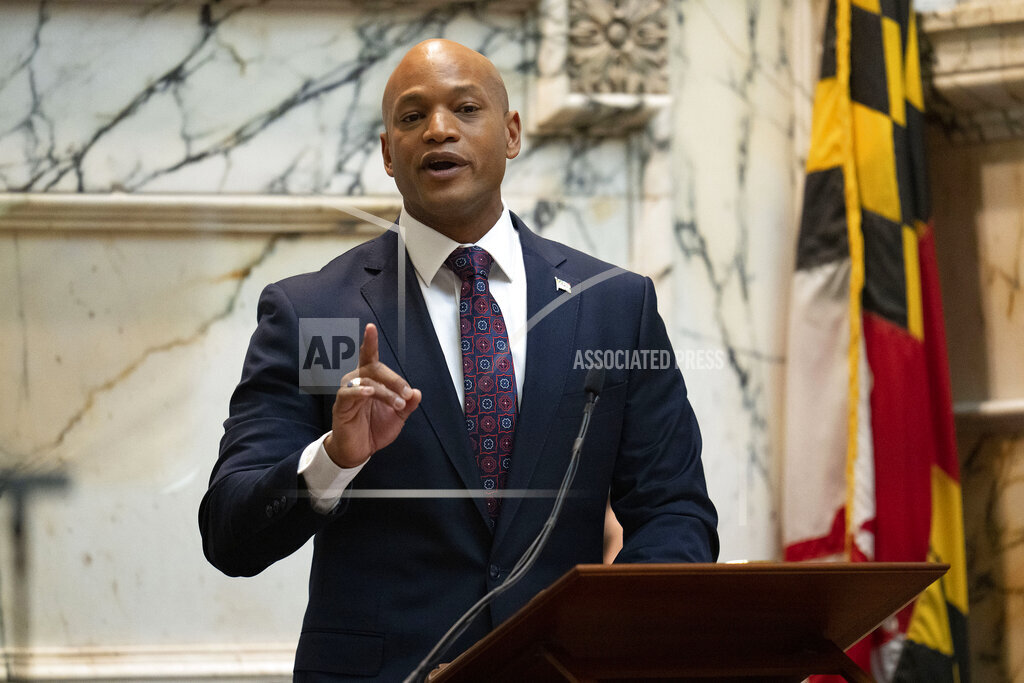 Gov Wes Moore delivering State of State Address (Photo from AP)
Annapolis, Md (KM) In his first state of the state address, Governor Wes Moore emphasized service. "This is a state where opportunities are  boundless, but the challenges are undeniable," he said. "It's also a state where there is no obstacle that we cannot address, no challenge that we cannot tackle if we are intentional, if we move in partnership. And promoting a state of service is how we're going to do that."
He told lawmakers and others  assembled on Wednesday at the State House in Annapolis that he is creating a Department of Service and Civic Involvement.  "Our order consolidates and elevates the agencies of state government that support service opportunities, and we need to follow it up with legislation. And the Serve Act will do just that because it will create a service year option for high school graduates, give them an opportunity to serve this state," he said.
Governor Moore said this will be a first for the nation, and "Maryland will lead."
On another topic, the Governor called "a collective, bipartisan pledge to end child poverty in Maryland." Moore said this is not an impossible dream. "I know there are people who say this can't be done. But the reason they're saying it because it's all they've ever known,": he says. "But today, we can make a decision that we will refuse to accept that. And today we can make the decision that Maryland is going to lead the way."
"There is no partisanship when it comes to a child in need. So let's not allow us to fall into our traditional corners on this issue,": Moore Continued. "Permanently extending the Enhanced Earn Income Tax Credit and expanding the Child Tax Credit is how we will begin."
The Governor said these tax credits do have a positive impact on the economy. "For every dollar invested in credits like these, there's up to ten dollars in economic benefit and the range is improved  for children, and  outcomes for communities from higher quality children's  health to reduce crime rates."
The Republican response to the Governor's State of the State Address was delivered by Delegate Jason Buckel of Allegany County who is also the House Minority Leader. "Governor Moore has presented an ambitious vision for Maryland, one where he claims no one will be left behind. We have no disagreement with such a vision We want every Marylander to succeed. But it will take more than words to realize this goal," he said. "We are willing to work with Governor Moore's Administration to find opportunities for common ground that will benefit all Marylanders."
Buckel noted that Maryland is spending records amount of money on education, but "the results don't match our spending." He said he's disappointed that Governor Moore's budget contains cuts for the Broadening Options and Opportunities for Students Today (BOOST), which provides  scholarships for eligible students who want to attend private schools because their local public schools are failing, or are unsafe. "Maryland's public schools are funded with billions of dollars. They are not competing for funding with the children in the BOOST program.. This is a false choice and an unnecessary cut, and those families and students should not be left behind,": says Buckel.
He says last year, the BOOST program awarded scholarships to nearly 3300 students across Maryland; many were students of color, English-language learners and were eligible for the Free or Reduced Price Meals Program.
Delegate Buckel says the GOP has outlined its plan for education in Maryland. "Our education bills will seek to protect our children's classrooms by enhancing funding for school resource officers. They will increase the focus on the educational achievements of our kids rather than the politics of adults. And we'll provide school choice for families stuck in failing or dangerous schools," he says.
On the topic of crime, Buckel says he appreciates  Governor Moore   increasing funds for parole and probation services and hopes it leads to better results. "However, his budget also cuts local funding for public safety programs, while increasing the size of the Attorney General's Office by over 30-percent, and pouring millions of additional dollars into the Public Defenders Office, investments that appear only help those working for the criminals, not the safety of our citizens," he says.
Continuing his comments, Delegate Buckel also said Republicans are willing to work with Democrats to create a "robust and healthy" economy. He says one way to do that is reduce the state's corporate tax rate. "We cannot continue to burden our businesses then be surprised when they leave our state, taking their jobs with them,": says  Buckel. "Maryland has one of the highest corporate tax rates in the region, and we must reduce this tax to improve our regional economic competitiveness."
Buckel also called for a easing the tax burden on retirees, and he gave credit to Moore for a proposal to reduce some of the tax burden on retired military. In his State of the State Address,  the Governor   proposed a $40,000 tax exemption for military retirees in Maryland.
By Kevin McManus