That's the start of the 2023 Maryland General Assembly.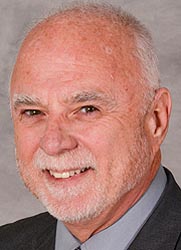 Frederick County  Delegate Ken Kerr (D)
Frederick, Md (KM) The 2023 Maryland General Assembly begins on Wednesday, January 11th. Frederick County Delegate Ken Kerr (D) says there will be a lot new this year, including the Governor. "It's interesting this year because Governor Hogan will present the budget. And then the new Governor will have a chance to put in a supplemental budget sometime in February," he says. "Interesting start to this session.":
Governor Larry Hogan is finishing out his second and final term in office. Wes Moore will be sworn in as Governor of Maryland on Wednesday, January 18th, 2023, along with Lieutenant Governor-elect Aruna Miller
Delegate Kerr also says there will be more than 30 new delegates and state senators taking their oaths of office. He says that's made drafting bills very challenging. "Bill drafting is going to be busy because the new delegates were not able to pre-trial bills to get them drafted ahead of the General Assembly," he said. "They have to be trained into what their committees are, and we don't know if the committees are going to be in person or virtual or in hybrid format."
But Kerr expects everything to be straightened out by the end of January.
He also says he plans to introduce 11 bills this session. One will continue state subsidies for persons between the ages of 18 and 34 so they can afford health insurance. "With the health care subsidy that I put in two yeas ago, as a pilot, is expiring. But the data are in and it looks like this program is working very well. We've signed tens of thousand of young Marylanders between the ages of 19 and 34. So we're looking to lift that sunset provision, and make that law either to extend it, or make it permanent," says Kerr.
Another health related measure he's introducing deals with physicians authorizing medical procedures for patients. "When a physician puts in a pre-authorization request for a patient who is going to get a procedure or a hospitalization, and a lot of these are denied by clerical people. So we have a bill going that puts some guardrails around what type of things can be denied, and who has the authority to deny it,:" says Kerr.
"Right now, it seems like when a physician puts in a pre-authorization request, too often it's automatically denied," Kerr continues. "And then the Insurance company tries to run out the clock. So the surgery happens before the appeal is finished. So we're working on that."
Another bill concerns  the duties of physicians' assistants. "We're trying to expand the scope of practice for physicians' assistants. So that people can get in to see a medical professional with less of a wait, and expand the pool of available health care professionals," he says.
Kerr also says he's sponsoring legislation in this year's General Assembly to set up a 311 system in Maryland where citizens could call and be connected to a state agency. "The beauty of this is they won't just give you a phone number to call. They'll hand you off to the  agency. They will  transfer your call and make sure that they're another answers it before they let you go," he says.
During this year's  General Assembly, Delegate Kerr says constituents are always welcome to call, or send e-mails to his office, expressing their points of view. He  says they can also come by in person to his legislative office in Annapolis, even if it's just to say "hi." "We always love when constituents come to Annapolis to see us, and we do our best to show them around a little bit, and maybe introduce them and welcome them  from the floor of the House chamber," he says. "Anybody who wants to come down, we'd really love to see you."
By Kevin McManus