Fire displaces several people from their apartment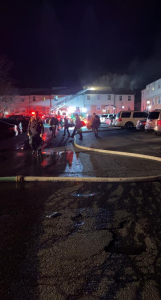 Frederick, MD (DG) – A fire late Wednesday night displaced several people at the Hickory Hill Apartments in Frederick.
Shortly before 10 p.m. firefighters were sent to 1479 Key Parkway in building C at Hickory Hill Apartments for a fire with entrapment.
According to Facebooks post from The Frederick Scanner, there was a working fire on the third floor of the building. Firefighters worked for nearly 30 minutes putting out the flames.
The Fire Marshal responded to the scene to determine the cause of the fire.