It's an opportunity for Frederick County residents to help set priorities for fiscal year 2024.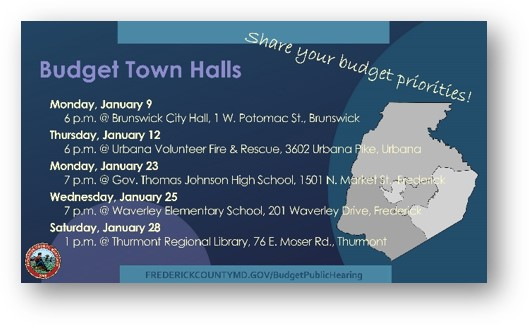 Frederick, Md (KM) Citizens are invited to attend a series of budget town halls taking place in January. Frederick County Executive Jessica Fitzwater is sponsoring these events which she says are an opportunity for residents to help her set priorities for the County's fiscal year 2024 spending plan.
"Providing many opportunities to listen and learn from the public is of the utmost importance to me as we embark on our budget process,:" says County Executive Fitzwater, in a statement. "I am looking forward to hosting these events along with the County Council Members so we can all hear what matters to the resident in every corner of the county."
The town halls will be held in each of the five councilmanic districts in the County.
The meetings are scheduled as follows:
District 1, represented by Council Member Jerry Donald
6 p.m. Monday, January 9
Brunswick City Hall, 1 West Potomac Street, Brunswick
District 2, represented by Council Member Steve McKay
6 p.m. Thursday, January 12
Urbana Volunteer Fire & Rescue, 3602 Urbana Pike, Urbana
District 3, represented by Council Member M.C. Keegan-Ayer
7 p.m. Wednesday, January 25
Waverley Elementary School, 201 Waverley Drive, Frederick
District 4, represented by Council Member Kavonté Duckett
7 p.m. Monday, January 23
Gov. Thomas Johnson High School, 1501 North Market Street, Frederick
District 5, represented by Council Member Mason Carter
1 p.m. Saturday, January 28
Thurmont Regional Library, 76 East Moser Road, Thurmont
Those who are unable to attend can submit their comments on line, (FrederickCountyMD.gov/BudgetPublicHearing)
By Kevin McManus