Similar bills  have   passed both chambers of the Legislature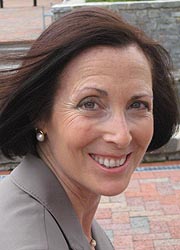 State Senator Karen Lewis Young
Annapolis, Md (KM) A bill to assist victims of sexual assault could be passed this year by the Maryland General Assembly. The legislation would require state's attorneys who are not pursuing charges against suspects in sexual assault cases to explain the reasons for their decisions.
The measure, sponsored by Frederick County State Senator Karen Lewis Young, has passed both chambers of the Maryland Legislature. "Both versions will cross the street. There's a good chance they'll both get approve because they're both in the same posture But only one has to be approved by the opposite side in order for it to be sent to the governor," she says.
Lewis Young says the bill had passed the House of Delegates in two previous sessions, but never made it out of the Senate. "I feel very confident. There was no opposition. There wasn't any debate. It moved fairly quickly. I think the third time was the charmer,": she said.
Similar legislation in the House of Delegates was sponsored by Frederick County Delegate Karen Simpson.
Senator Lewis Young said the legislation came about after she heard from a constituent who was sexually assaulted. The victim reported it, but nothing happened. "If the constituent who brought that idea to me is listening, thank you for your patience. Finally, we're going to get it done,"; she said.
The 2023 Maryland General Assembly is scheduled to adjourn for the year on Monday, April 10th at midnight.
By Kevin McManus