It's a friendly competition to donate blood.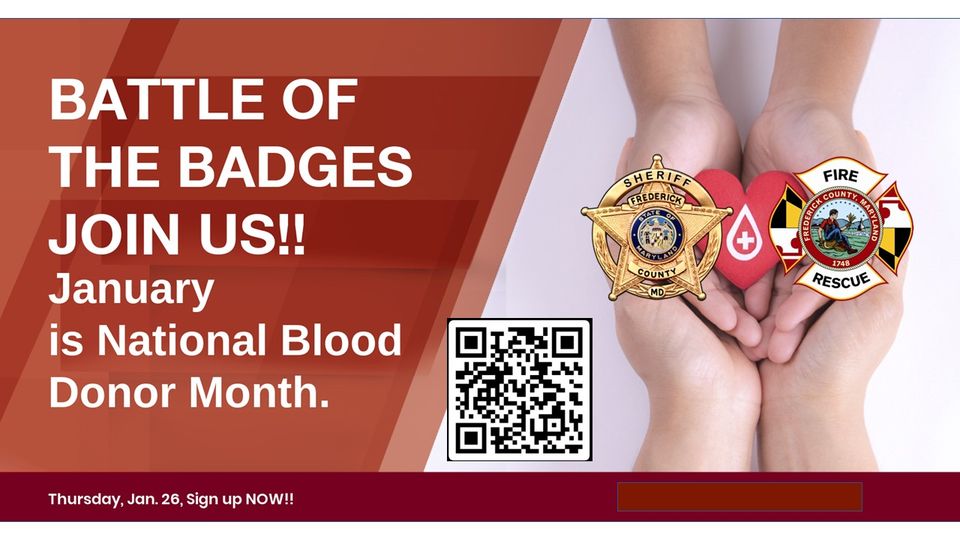 Frederick, Md (KM) It's a friendly competition. This week is the Battle of the Badges where Frederick County Sheriff's Deputies and fire fighters go head-to-head to donate blood. "We love that this is  happening because we have first responders and their families are coming together to give blood and do it in support of the people in Frederick County and the surrounding areas that  need blood on a regular basis," says Curt Luthye, the Executive Director for the Red Cross Chapter for  Montgomery, Howard and Frederick Counties.
The Battle of the Badges will take place on Thursday, January 26th at the Independent Hose Company on Baughmans Lane in Frederick.
Luthye says the need for blood is always constant. . "One in seven patients entering the hospital will need a blood transfusion, while only three-percent of the US population is a blood donor," he says. "There's a steady need for blood and for platelets, and those are things that cannot be manufactured or stockpiled. So it only comes from volunteer blood donors."
January is National Blood Donor Month. It's usually during the winter, Luthye says, when blood donations taper off. "Sometimes the weather is there, and seasonal illnesses might affect that. It's a good time for people who haven't donated to make a resolution d donate, "he says.
Anyone who wants to donate can make an appointment on line by going to www.redcrossblood.org, or by calling 1-800-RED-CROSS (733-2767). They can also download the Red Cross App. Those who want to give should be 16 years of age or older, weigh at least 110 pounds and be in good health.
Luthye says the process of donating blood is safe, despite the COVID-19 pandemic. "At Red Cross, since the pandemic has happened, has followed very closely the CDC guidelines on how to proceed and continue to do so," he says. "All of our nurses and phlebotomists are taking the necessary precautions to make sure that those who donate  are safe to the best of our ability."
By Kevin McManus