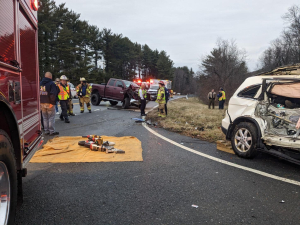 Photo courtesy of Frederick County Fire & Rescue Facebook page
FREDERICK, Md. (BW)- A multi-vehicle accident in Frederick County occurred Tuesday, January 31 leaving one person with life-threatening injuries .
The crash involved three vehicles and three adults.
At least one person involved in the crash was trapped in their vehicle.
One adult was transported by ground to a trauma center and one adult was transported to a local hospital.
Frederick County Fire and Rescue responded to the crash at Old Annapolis Road and route 75 around 4:45 p.m.
The roadway was closed for about one hour.